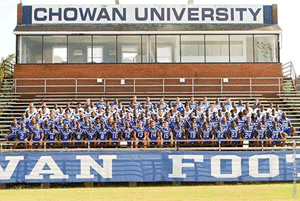 WINDSOR, NC- The Chowan University football team continues to make an impact in the local community. With the local areal still reeling from the impact of Hurricane Matthew, the Hawks spent the evening of October 14th lending a helping hand. Head Coach Tim Place, along with Associate Minister to the University Drew Phillips, and 20 Chowan football student-athletes traveled to Cashie Baptist Church to assist with local cleanup efforts; working with the local community to help revitalize the area after flooding. The Chowan football team participates in various community service and community engagement projects over the course of the year. The team is also in the midst of their annual "Five-for-Feeding the Hungry Campaign". Click HERE to read more about the project.

WEEK 8 OF MEAC FOOTBALL FEATURES ESPNU BROADCAST, 4 HOMECOMINGS
Ryan McGinty


ESPNU contest is on tap as Bethune-Cookman will travel to Norfolk State this Saturday as there will also be four homecoming match-ups. The contest will be shown live on ESPN3 and televised on ESPNU at 10:30 p.m.
CIAA Football Preview: Week 8


Bri Funte October 22, 2016
Charlotte, NC (October 20, 2016) – Only three weeks separate the Central Intercollegiate Athletic Association regular season from the 2016 Football Championship in Salem, Virginia. Last year's top two teams have emerged as the frontrunners of their respective divisions, but are closely followed by their rivals. Bowie State University and Winston-Salem State University will have to make no mistakes the remainder of the season to ensure repeat appearances at this year's championship.